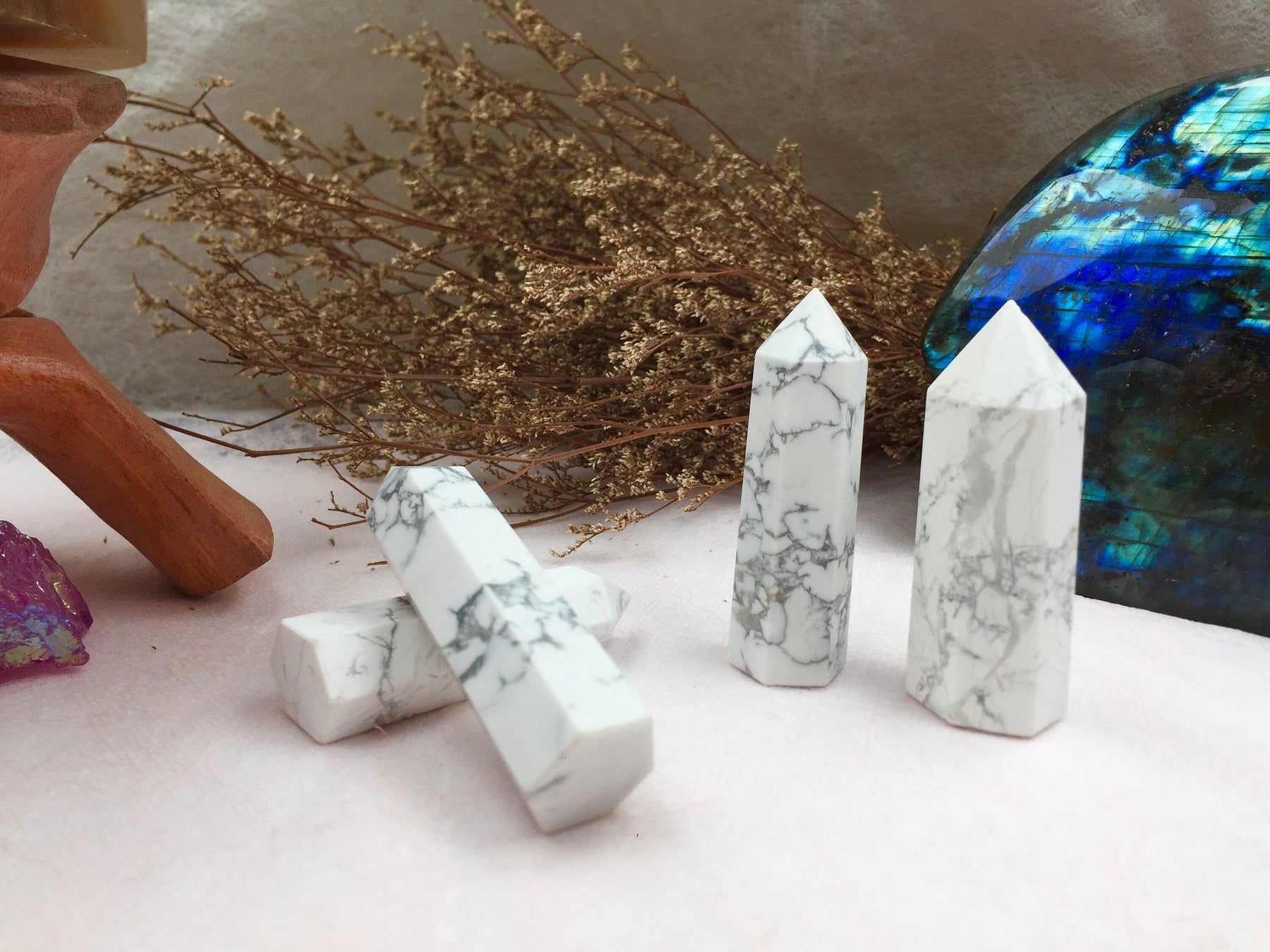 Howlite Tower,Howlite Point,Crystal Tower/Wand,Healing Crystal,Reiki Chakra Stone,Home Decor,For Gift
Delivery

Standard shipping: (7-12 Days)
Express shipping (3-5 Days)

Free Return & Exchange
Our 60-Day Fit Guarantee, Free Exchange & No-Hassle Returns

Shipping from US facilities

Request a full refund anytime before your order is shipped.
support

We offer 24/7 online help.
Material:  Howlite Tower
quantity:    1 PC
Shape:        tower
Color:         as picture
Style:          handmade
Small:         1.5-2 inches
Medium:     2- 3 inches
Large:         3- 4 inches
 Approximate Dimensions: (1 inch = 2.54 cm )
"Immerse in the energy of calm and stress relief with our Howlite Tower. Known for its soothing energy that helps to alleviate stress and insomnia, this crystal is a powerful tool for anyone seeking balance and tranquility."

"Experience the power of crystal healing with the Howlite Tower. Revered for its potent healing properties, this stone can help to cleanse and balance your chakras, promoting calmness, improved memory, and emotional well-being."

"The Howlite Tower serves as a powerful metaphysical tool. Perfect for meditation and energy balancing, it helps to clear negative energy and foster a sense of peace and harmony."

"Our Howlite Tower is a striking addition to any crystal collection. With its natural beauty and potent energy properties, it complements other crystals, enhancing their healing properties and amplifying your overall energy work."

"Embrace the power of crystal healing with the Howlite Tower. This stunning piece can transform your space into a sanctuary of healing, promoting balance, tranquility, and a deep connection with your inner self."