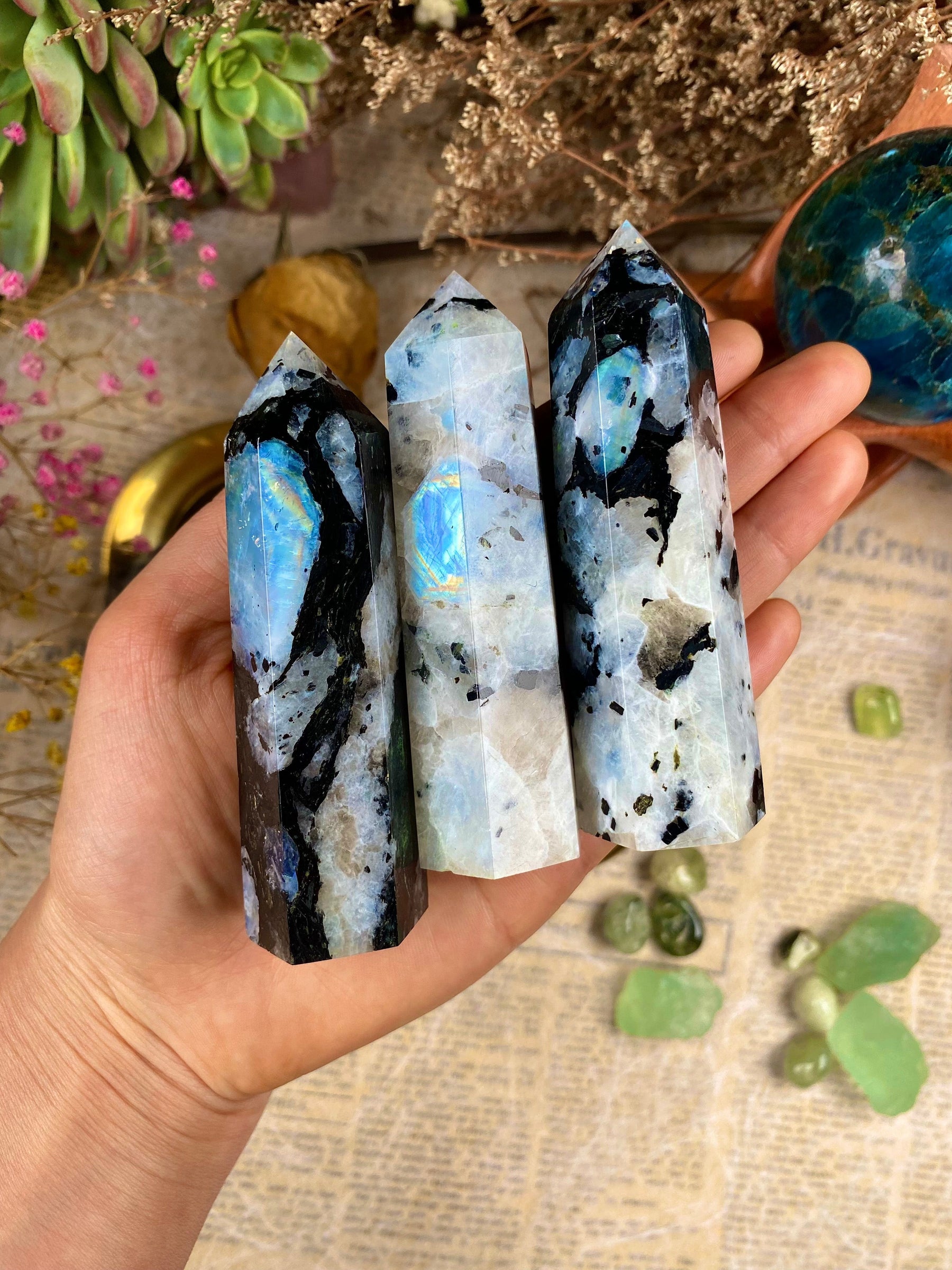 Moonstone tower Crystal Healing Metaphysical Crystal Emotional Balance Stone
Delivery

Standard shipping: (7-12 Days)
Express shipping (3-5 Days)

Free Return & Exchange
Our 60-Day Fit Guarantee, Free Exchange & No-Hassle Returns

Shipping from US facilities

Request a full refund anytime before your order is shipped.
support

We offer 24/7 online help.
Production:- Purely handmade

Gemstones:- Rainbow Moonstone

Shape:- pencil shape

Stone Cut:- Faceted

Size: 1:1.5in-2in

2:2in-2.8in

3:3in-4in

Pieces:- 1 Piece

Give a random gift
Moonstone has translucent white color with a white sheen similar to "moonshine" that rolls or flows over the stone when rotated, hence the name "moonstone." The sheen is caused by light diffraction within layers of feldspar. Generally a creamy translucent white stone, rainbow moonstone features occasional iridescent or multicolored (especially blue) flashes with transparency that ranges from opaque to semi-translucent. Rainbow moonstone is best seen in natural light for play of color
These crystals are very much looking for their instinctive owners and will be nothing but an excellent friend, beautiful to look at and bring you lots of hapiness. I think how you use and bond with crystals can and perhaps should be completely instinctive - so whether it's tucking them under a pillow at night, in a pocket in the day time or placing them in a room to rais whatever feelsto you cannot be wrong.

Using or wearing, stones or crystals, does not mean that you can treat, cure or prevent any disease. Please consult your Health Care Professional for information on health care issues and do not stop any medications or courses of treatment, without first consulting your Health Care Professional.