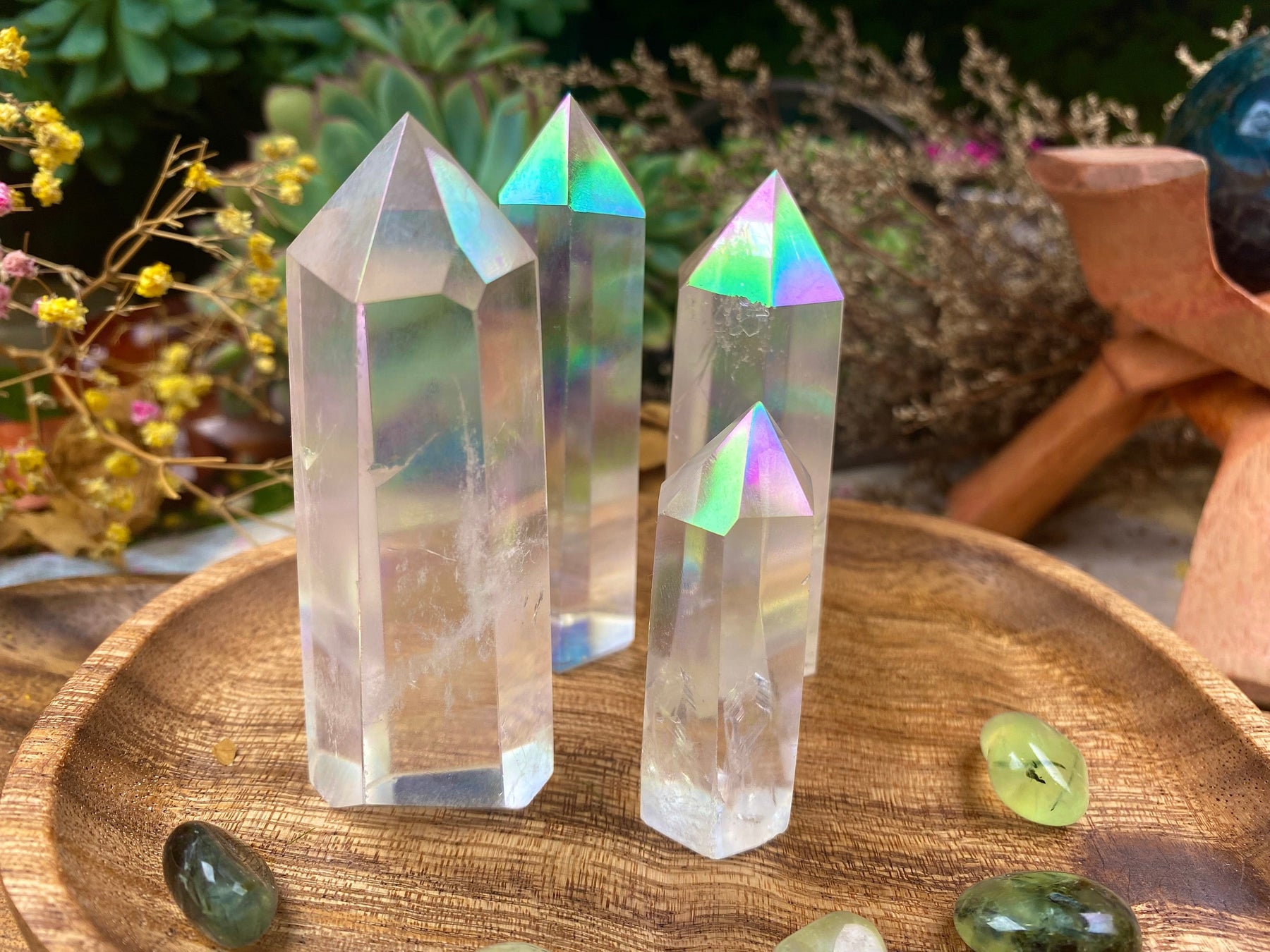 Aura Quartz Crystal Tower Meditation Tool Aura-Enhanced Quartz Crystal Obelisk
Delivery

Standard shipping: (7-12 Days)
Express shipping (3-5 Days)

Free Return & Exchange
Our 60-Day Fit Guarantee, Free Exchange & No-Hassle Returns

Shipping from US facilities

Request a full refund anytime before your order is shipped.
support

We offer 24/7 online help.
Material:   Aura Quartz Crystal Double Terminated Tower
quantity:    1 PC
Shape:        tower
Color:         as picture
Style:          handmade
Small:         1.5-2 inches
Medium:     2- 3 inches
Large:         3- 4 inches
 Approximate Dimensions: (1 inch = 2.54 cm
Introducing the Aura Quartz Crystal Tower, a powerful crystal tool renowned for its exceptional energy and healing properties. This tower features a quartz crystal point infused with aura treatment, amplifying its metaphysical properties.
Crystal Energy Amplifier: The Aura Quartz Crystal Tower serves as a potent energy amplifier, intensifying and radiating the vibrational frequencies of quartz crystal. It facilitates a stronger connection to its healing energies and supports various energy practices.

Calming and Serenity: Embrace the calming nature of aura quartz as the Aura Quartz Crystal Tower brings a sense of tranquility and serenity. It aids in reducing anxiety, stress, and promoting emotional balance and well-being.

Spiritual Connection and Enhancing Intuition: The Aura Quartz Crystal Tower enhances spiritual connection, deepens intuition, and expands consciousness. It assists in attuning to higher realms, connecting with spiritual guides, and fostering spiritual growth.

Chakra Healing and Balance: Utilize the Aura Quartz Crystal Tower for chakra healing and balancing. Its energy promotes harmonious energy flow, clearing blockages, and fostering overall well-being within the chakra system.

Manifestation and Positive Vibes: Experience the manifestation properties of the Aura Quartz Crystal Tower. It aids in amplifying intentions, attracting positive energies, and aligning with the frequencies of abundance and manifestation.